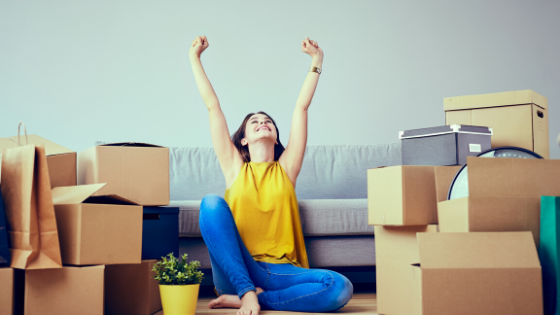 If you're considering Portland as your new home, you might be excited about exploring our beautiful arboretum or filling up at one of Portland's famous food carts. Perhaps you're still discovering which area of Portland is right for you. While we don't know all the variables of your move, we do know that the process of relocating isn't easy.
The logistics of moving can be stressful (i.e. scheduling, packing, and expenses). While uplifting your roots is tough, it can also be positive and exciting! How can you lower your stress and heighten your happiness during your move? Dive into our 3 helpful tips below.
First, adjust your mindset
A positive mindset is a powerful thing. Research has shown time and time again that people who see the glass as half full are more capable of coping with change. While it's okay to acknowledge and experience any negativity you might feel about leaving your old home, don't stop there! Allow yourself to consider any positives about your situation.
To start, reflect on the things you like about your old city and home so that you can intentionally pursue those areas in your new situation. Next, don't hesitate to reach out for support from friends and family during this transition. Third, spend time thinking about all the blessings that might come from moving into a new home. Check out some of our tips that will help your home feel a bit brighter and more like home.
Second, complete some practical preparations
Now that you're aware of your mindset, it's time to tackle the practical stuff. Sit down and work out the budget for your move. Create a moving timeline. Consider hiring professional movers for extra help. Be proactive and tie up loose ends ahead of time – like transferring your kids to a new school, retrieving medical records, changing your mailing address, and ending your lease agreement.
Third, cultivate that home feel
Time to nurture that "feels-like-home" bond with your new nest! Feeling at home in your new city and house will significantly lower your stress during and after your move. There are three specific steps that will help you recreate a new bond with your new home.

First, rework your old routines. Research has shown that people who recreate well-known environments have lower stress levels. Second, become familiar with your new city and surroundings. This is one of the best ways to increase your attachment to your new home. Third, get out and do what you love in your new city. We're biased, but we think Portland is the best city for getting out & plugged into your community! Here's a helpful list of Portland's events. From bee and art festivals to family-friendly performances and parades, the list is all-inclusive.
We hope this helped!
In the midst of your busy move, remember that you can make a difference in your mood by applying these tips. As local experts and community enthusiasts, we are always here to support you in making Portland your home. We are more than happy to answer your questions about city demographics, market conditions, school districts, and so much more! Let us know how we can serve you.